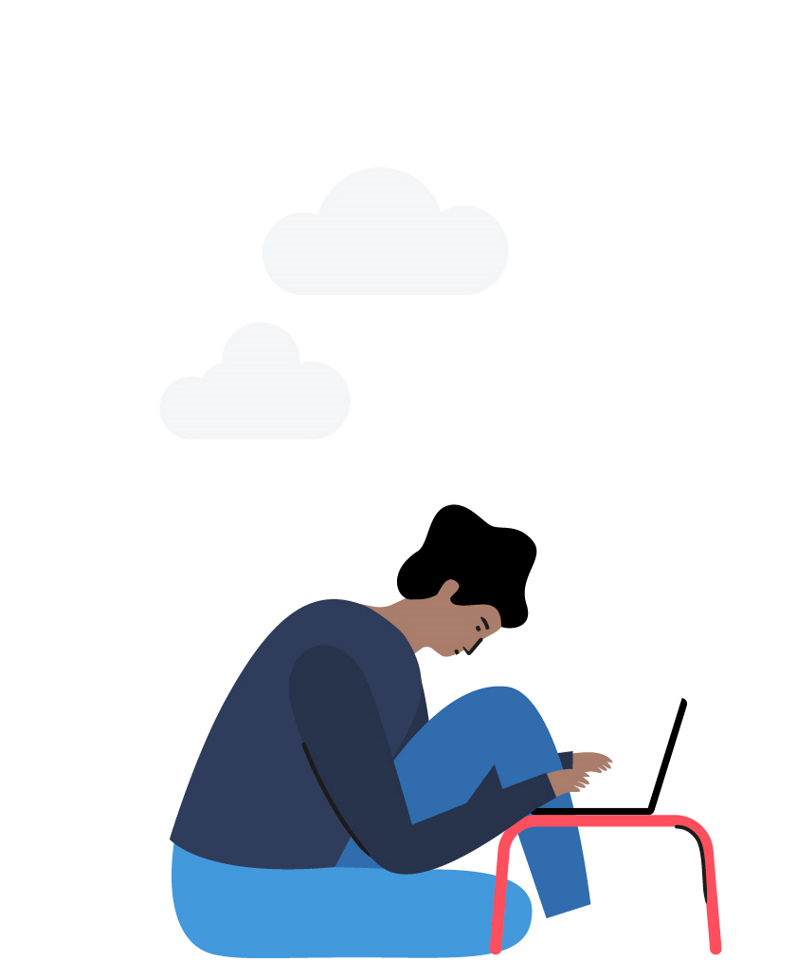 Drive growth and profitability with high quality cross-channel measurement
High-functioning Performance teams are the key to great eCommerce brands. But without good data, it's impossible to make good decisions to drive growth and grow margin.
Showing the impact of clicks, impressions and offline ads in one place, Fospha Analytics gives you the data you need to understand your cross channel spend and invest to grow revenue.
Spot the Danger
Track your performance against target using data you can trust. Independent reporting across all channels gives you early warnings when you're going to miss your KPIs, then shows you where to investigate.
'Every morning, we log on to see performance in one place. Fospha drives our marketing decisions.' - Max McShane, Head of Digital, Octopus Energy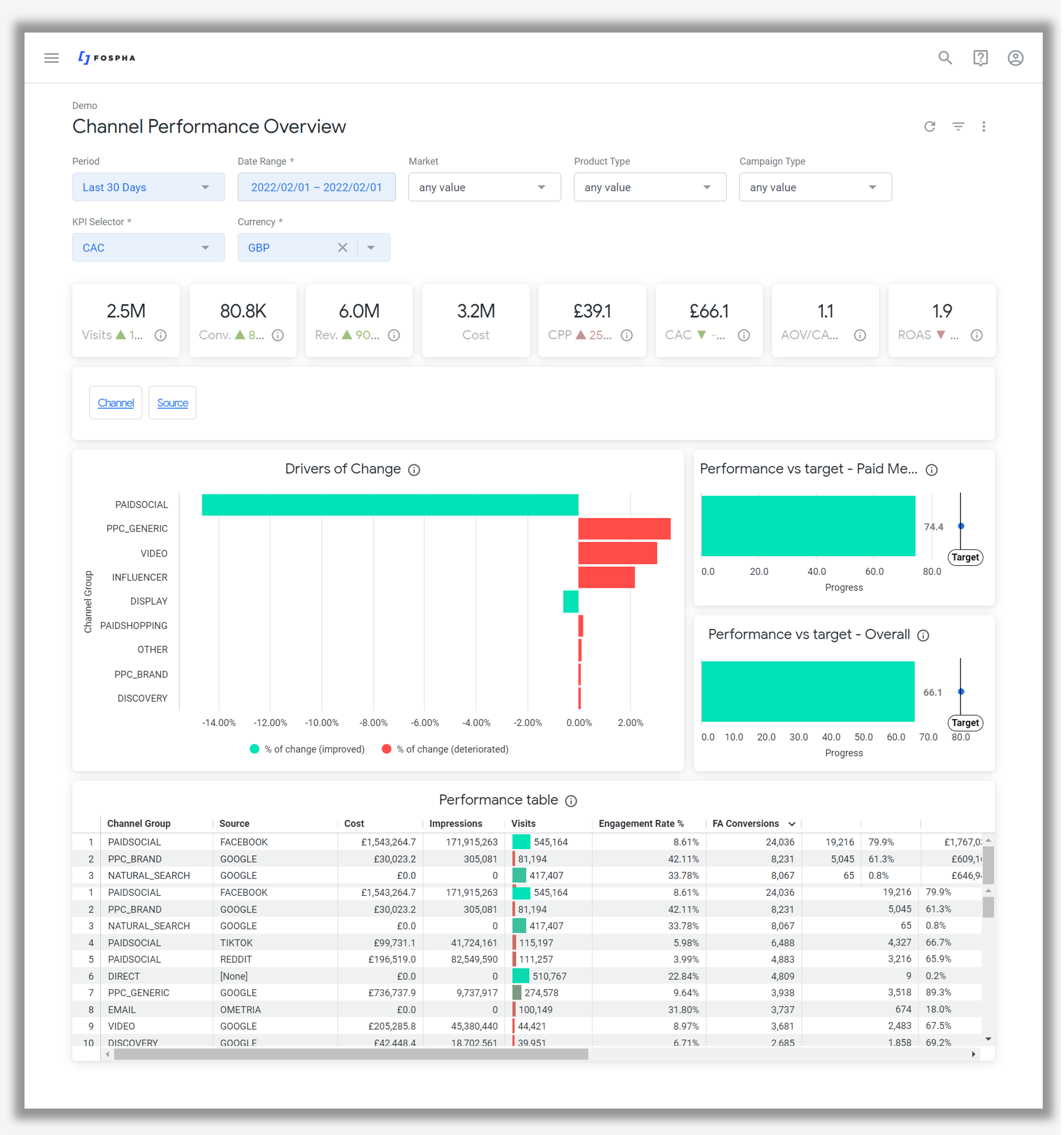 Granular investigation
Data you can trust, where total sales align with your eCommerce platform.
Performance to Target
Track marketing performance to see whether you're up or down on targets like CAC and ROAS.
Drivers of Change
Understand why, with quick indicators on which channels have changed since last week, month, quarter or year.
Slice and Dice Data
Break down by channel, source, campaign and objective, across all of your KPIs and time periods.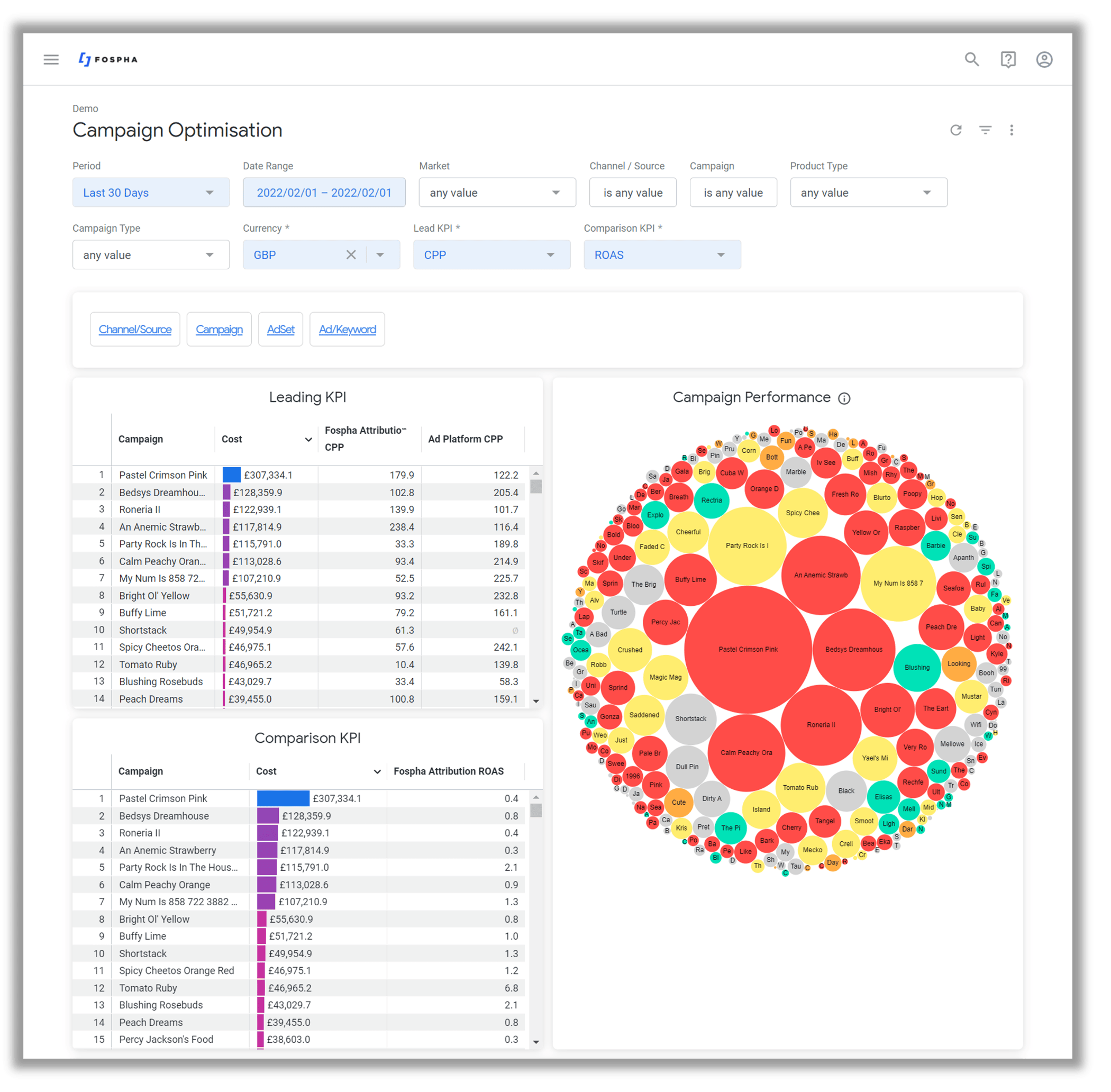 Solve problems
Dig in to find problems and opportunities. Compare KPIs at a granular level, then decide what you need to do to get back on track and hit your number.
'We have seen an immediate benefit since onboarding with Fospha. The platform has given us the confidence to double our social spend.' - Matt Aikenhead, Acquisition Manager, VonHaus​
Granular investigation
Follow the data down to campaign and ad level to diagnose problems in your mix.
Holistic views
Compare media through multiple KPIs to make sure you're seeing the full picture.
Get the most from your budget
Eradicate poor performing campaigns and double down on your top performers.
Slice and Dice Data
As always, break down by channel, source, campaign and objective, across all of your KPIs and time periods.
Build your strategy, stay on plan
See performance trends across time and channels to highlight your wins across markets, campaign types and KPIs. Get clear instructions on what to do next to maximize your growth. Schedule key views to automate your reporting and save hours every week.
"Fospha have helped us seriously up our game in terms of attribution, and analytics. We think very highly of Fospha" – Adam Woodhouse, COO, SPOKE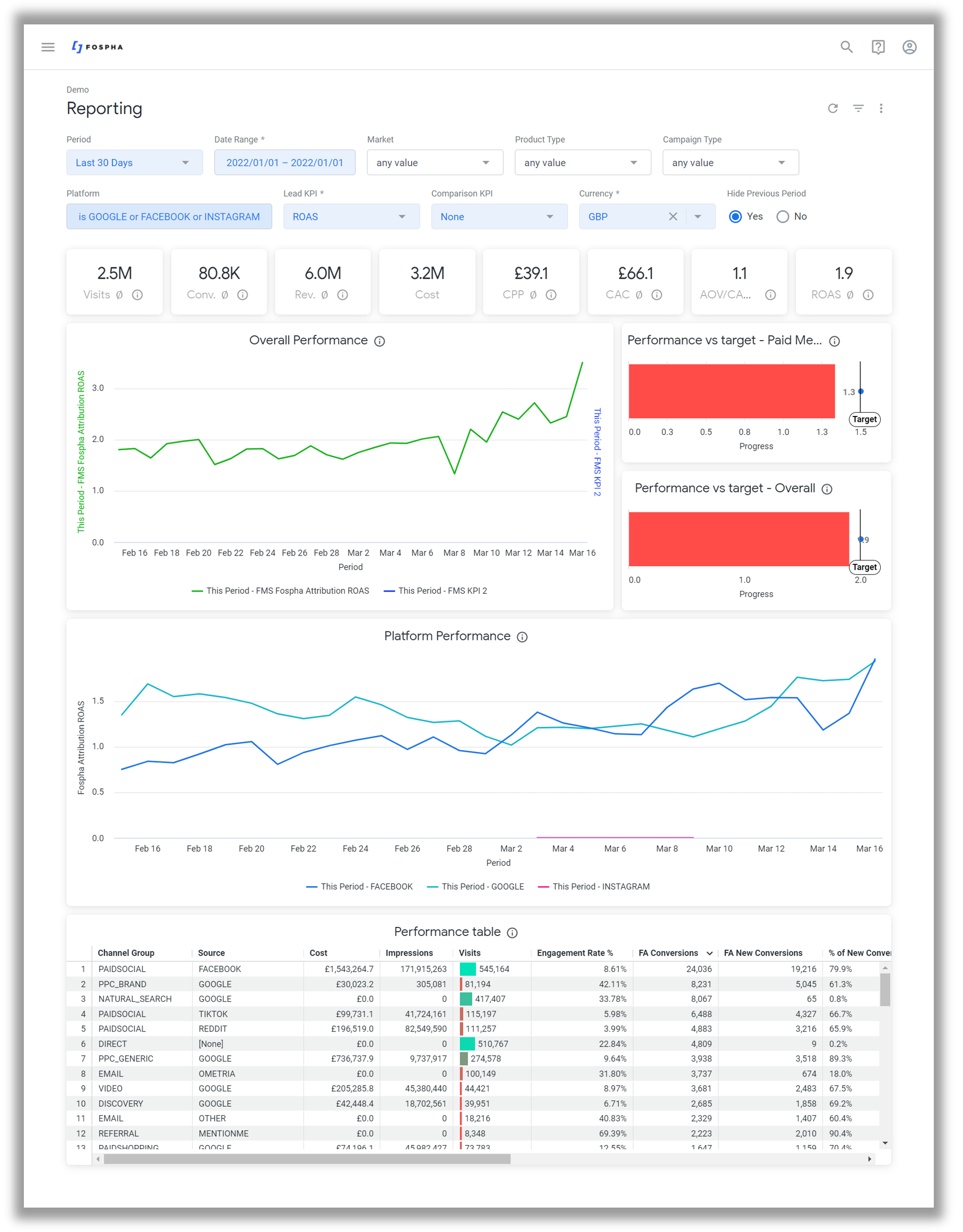 Build your strategy
Use historical trends and specific channel recommendations to build your long term growth strategy.
Create bespoke views
Customize your reports to easily answer the business' questions and be on the front foot with your data.
Automate
Schedule and share views with key people to match your business cadence.
Filter
Flex your views by channel, source, KPI, market, comparison period and campaign type.
Fast. Flexible. Powerful.
Built for Direct-to-Consumer eCommerce.