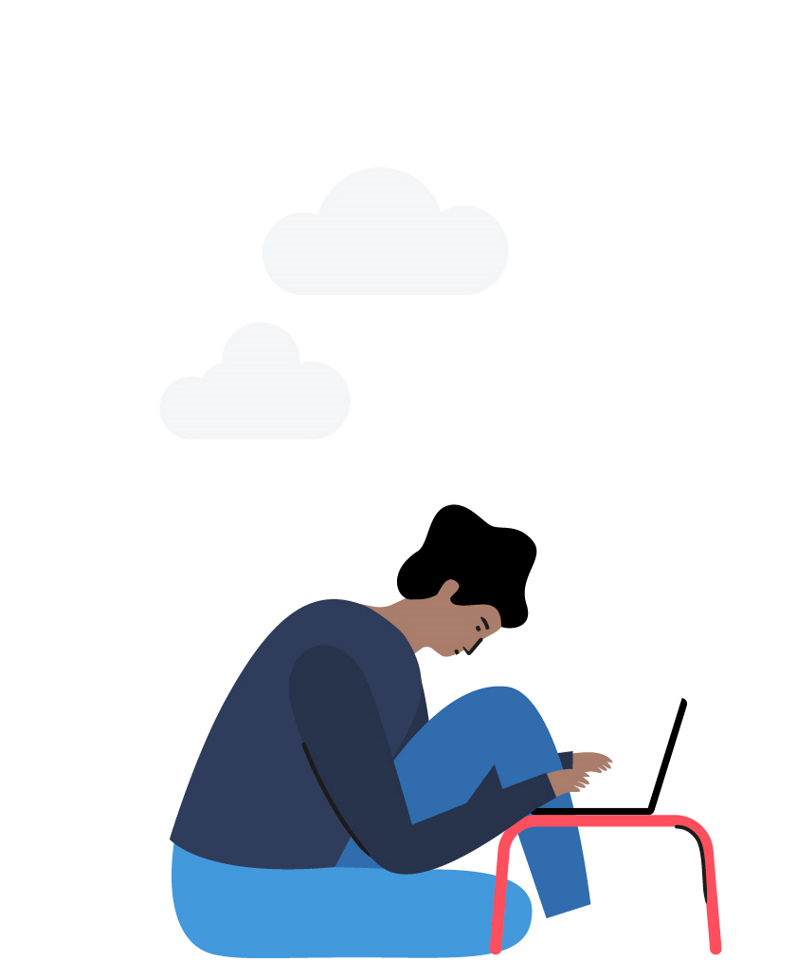 Drive profitable growth with the best Paid Social measurement in the world.
High-functioning Performance teams are the key to great eCommerce brands. But without good data, it's impossible to make good decisions to drive growth and grow margin.
Showing the full-funnel impact of clicks, impressions and offline ads in one place, Fospha Analytics gives you the answers you need on where to invest your budget wisely.
Know exactly what's working.
Track each channel's properly-attributed performance against target. Get early warnings when you're going to miss your KPIs and spot opportunities to double-down.
'Every morning, we log on to see performance in one place. Fospha drives our marketing decisions.' - Max McShane, Head of Digital, Octopus Energy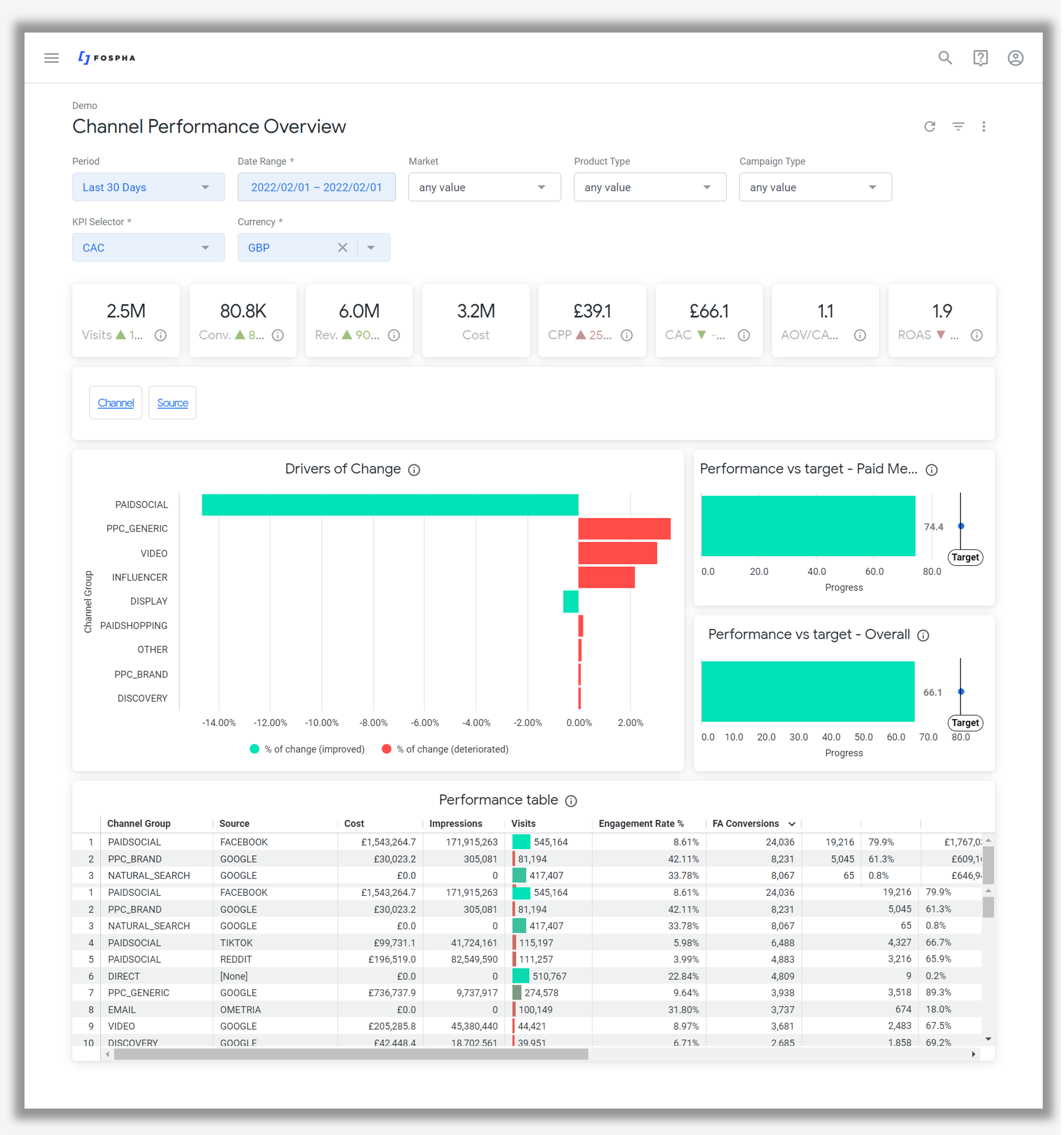 No More Manual Reporting
All your metrics in one place, adding up to 100% of reality!
Track Performance to Target
Immediately identify which channels are moving the needle your CAC and ROAS.
See What's Driving Change
Visualise the impact that changes in channel performance has on your KPIs over time.
Slice and Dice Data
Break down by channel, source, campaign and objective, across all of your KPIs and time periods.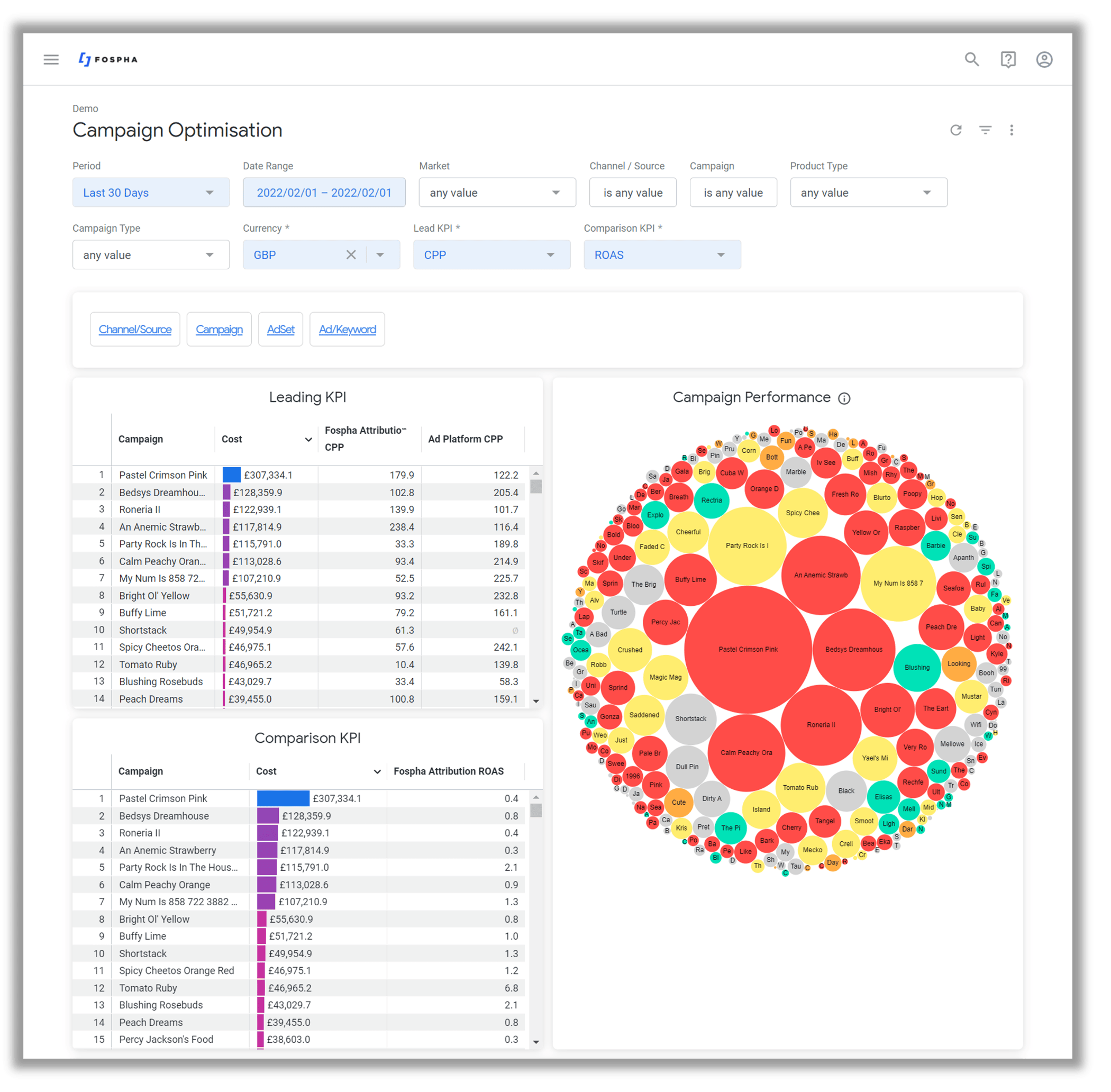 Identify opportunities in seconds.
Dig in to find problems and opportunities. Compare KPIs at a granular level, then decide what you need to do to get back on track and hit your number.
'We have seen an immediate benefit since onboarding with Fospha. The platform has given us the confidence to double our social spend.' - Matt Aikenhead, Acquisition Manager, VonHaus​
Attribute everything
Our modelling makes sure you can see the real performance of all your marketing.
Across every KPI
Compare each channel's CAC, ROAS and more, to make sure you're seeing the full picture.
Get the most from your budget
Eradicate poor performing campaigns and double down on your top performers.
Arm your team and agencies
Every person is armed with the right view whenever they need it.
Build your acquisition and retention strategy, stay on plan.
See trends across time and channels to highlight your wins across markets, campaign types and KPIs. Get clear instructions on what to do next to maximize your growth.
"Fospha have helped us seriously up our game in terms of attribution, and analytics. We think very highly of Fospha" – Adam Woodhouse, COO, SPOKE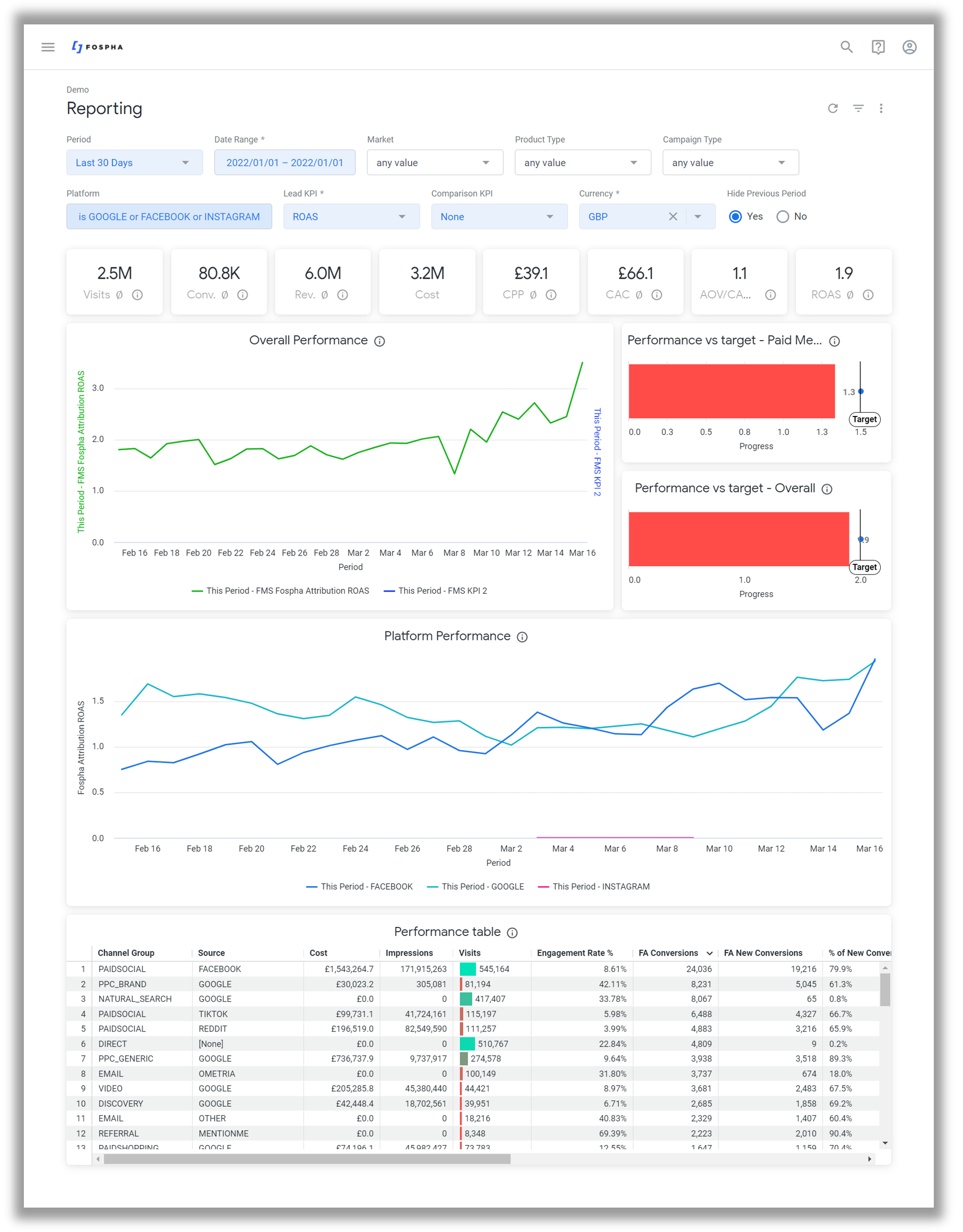 Build your strategy
Use historical trends and specific channel recommendations to build your long term growth strategy.
Create bespoke views
Customize your reports to easily answer the business' questions and be on the front foot with your data.
Automate
Schedule and share views with key people to match your business cadence.
Filter
Flex your views by channel, source, KPI, market, comparison period and campaign type.
Fast. Flexible. Powerful.
Built for Direct-to-Consumer eCommerce.